No matter how accomplished a woman becomes, she's still somebody's wife. Continue reading!
Educator and entrepreneur Divya Gokulnath is co-founder and director of Byju's, an online educational platform where anyone can enroll in the courses of their choice. In March 2022, she was appointed Chairperson of the EdTech Task Force of the Federation of Indian Chambers of Commerce and Industry.
However, when you google her name, the side description of the businesswoman on Wikipedia is Byju Raveendran's wife. Not a businesswoman. Not an entrepreneur or an educator. But they give her the title of someone's wife.
This isn't the first time a woman's accomplishments have been limited to being someone's wife. Our patriarchal configuration still sees the woman as the subject of a household whose main achievement is to marry, give birth to the heir of the family, and be immediately available when called upon for household chores.
No matter what a woman has accomplished in her life, she is always asked how she maintains a balance between her family and her job. Actresses have often been asked if they would return to work after marriage or childbirth.
As a society, we are so focused on her "private life" that we forget that a woman has an individual identity away from the four walls of the house. She could be someone's daughter, wife, and mother, but her identity could be a businesswoman, writer, lawyer, doctor, educator, dancer, and many other things.
Priyanka Chopra Slams Media Who Called Her "Nick Jonas' Wife"
In December 2021, one of the posts listed Priyanka Chopra as "Nick Jonas' wife." It didn't sit well with the actor, author, businesswoman and singer who was then promoting The Matrix Resurrections.
Taking to her Instagram Stories, she slammed the post and wrote, "Very interesting that I'm promoting one of the most iconic film franchises of all time, and still being called 'the wife of..'
She added, "Please explain how this still happens to women? Should I add my IMDb link to my bio? »
Deepika Padukone was referred to Ranveer's wife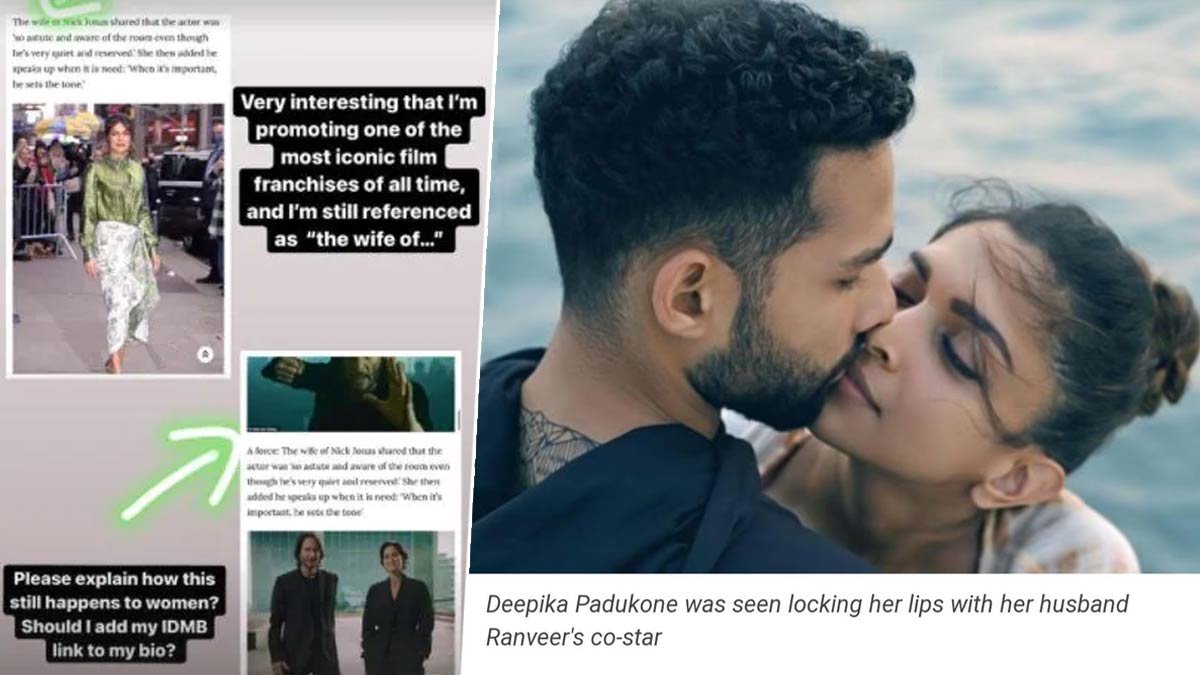 When Gehraiyaan's trailer made the rounds on social media, the InformalNewz headline read, "Deepika Padukone was seen locking lips with her husband's co-star Ranveer."
Patralekhaa has been named as Rajkummar Rao's girlfriend
pictures of @Patralekhaa9 with her boyfriend Rajkummar Rao. Thanks for the collage guys. https://t.co/qsOlVIF06f

— Rajkummar Rao (@RajkummarRao)
February 23, 2018
Patralekhaa is a well-known actress and is famous for her role in City Lights. Ahmedabad made a collage of her and Rajkummar Rao and shared it on Twitter with the caption: "Some super sweet pics of @Rajkummarrao and his girlfriend Patralekhaa.
Correcting the caption, the actor replied, "Pictures of @Patralekhaa9 with her boyfriend Rajkummar Rao. Thanks for the collage guys.
Don't miss: Ayushmann and Tahira are 'back in the bay, but mentally still on vacation'
Katrina Kaif called 'future wife of Vicky Kaushal'
Prior to Vicky Kaushal and Katrina Kaif's wedding, the headline of an article on Zee News read, "Vicky Kaushal's future wife Katrina Kaif's real name, childhood details, other fun facts you didn't know!"
Don't Miss: Single Stars Who Prove You Don't Need a Man to Live a Full Life
On the other hand, we would hardly ever see headlines referring to a man as someone's husband. But renowned news publications and portals continue to denigrate a woman's accomplishment by calling her someone's wife or asking her if she could 'manage' home and work effectively. It is high time we respected the individual identity of women, beyond their marital status.
Did you like this article?